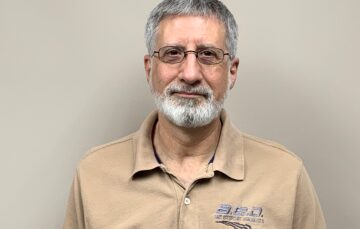 Dave Gordon
Sales Manager
Meet Dave Gordon, our Sales Manager and guru of international sales. Dave has been involved with A.E.D. METAL PRODUCTS since its infancy in 1997, as both an investor and an advisor.
Dave officially joined the A.E.D. team in July 2001. He said "I was so excited when I was invited to join A.E.D.. For several years, I had been watching it steadily grow from a 2-man operation to a company "to watch," and I was thrilled to finally be involved directly. I quickly immersed myself in many aspects of our business and the steel industry, as well as becoming an integral part of our sales success."
Dave's friendship with Al and Randy dates back to 1982 when he met Al through a mutual friend while attending Ball State University in Muncie, Indiana. Dave graduated from Ball State in 1983 with a degree in Sales and Marketing.
Before coming to A.E.D., Dave was involved in sales in several industries, including computer software and hardware; analytical instruments that measure color and moisture; and industrial plastic materials. "The latter was extremely helpful in learning the metals industry, as there are similar considerations with material specifications, dimensions, and product shapes (sheets, plates, tubes, bars, etc.)," Dave shared.
Dave is responsible for metal sales here and abroad and also setting up programs with our preferred shipping companies plus many other projects that arise. Over the years, Dave has significantly grown A.E.D.'s business with customers outside of the US. When Dave arrived at A.E.D., sales outside the US were a very small part of the mix, but now our international business makes up about 30% of our total sales. We supply material all over the world to direct customers and distribution partners, with frequent shipments to England, Italy, Australia, Japan, Sweden, New Zealand, Israel, Canada, and Mexico.
Dave is also involved in our information technology (IT) requirements, our websites, and our product catalog. For a few years, he and Al were the sole members of our computer network team, which was a blessing and a curse.
Outside of A.E.D. Dave enjoys reading, photography, listening to live music, exercising and spending time with family and friends.