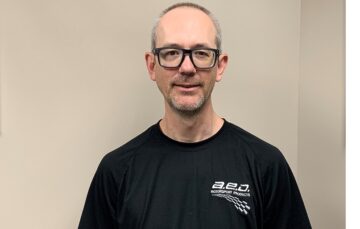 Michael Bournique
Quality Assurance Manager
Meet Mike Bournique, our Quality Assurance Manager at A.E.D. METAL PRODUCTS. Mike started working at A.E.D. in August of 2000, right around the time we were moving into our current facility. He found out about a job opening at A.E.D. from a friend who previously worked here. Mike states, "She always kept asking me to come work here, and it turned out to be one of the best decisions I've ever made." Before joining A.E.D., he worked at a tile shop and helped with granite installation.
Mike oversees all the shop operations at A.E.D. This includes planning and overseeing all production services, including saw-cutting, shearing, and tumbling, as well as ensuring that all material arrives and leaves the building in good condition. Along with Dave, he works closely with our shipping carriers to ensure that our products travel safely to their final destinations. He also plays a vital role in our ISO 9001 Quality Program, keeping track of all records and continuous improvements, among other ISO related tasks. "One of my biggest accomplishments is helping to keep our ISO 9001 running smoothly with our continued improvements across the whole company as a result," Mike says quite emphatically. He has helped lead us through three separate ISO audits with ZERO major findings.
Mike is a very proud to be part of the A.E.D. team stating, "Everyone at A.E.D. is my family. I enjoy how we can work together and play together, and I get to work with great people, every day."
Outside of A.E.D., Mike enjoys motorcycles, golf, bowling, video games, movies, and spending time with his family.
Mike feels his greatest accomplishments in life are his independence, marrying his wife, his dogs and family.