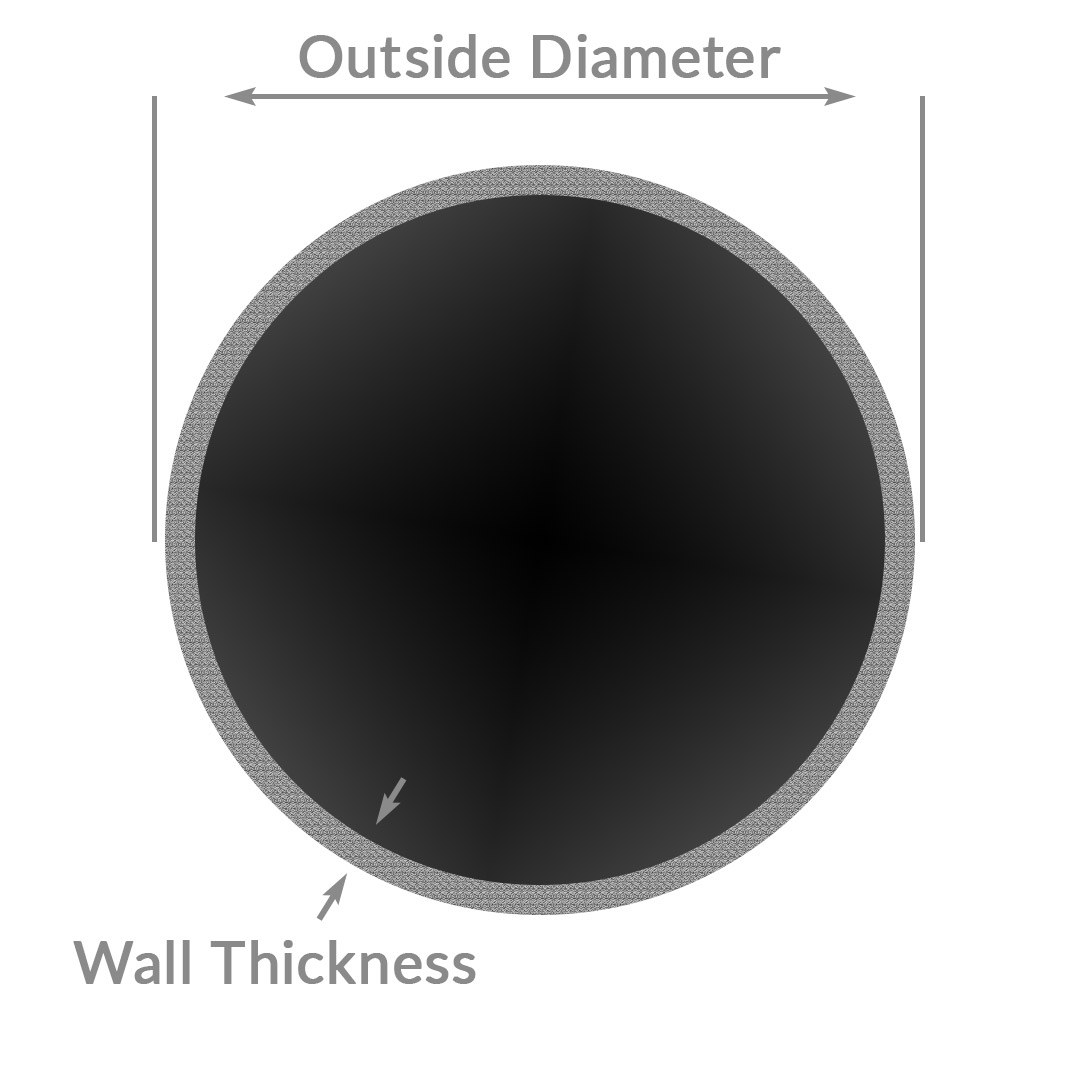 DOM refers to steel round tube that is "drawn over mandrel." A.E.D. METAL PRODUCTS stocks several sizes of DOM steel tubing and it is produced in "random lengths" that can range between 17 to 24 feet long. The best pricing is always when you order full lengths, which can be cut for economical shipping methods. A.E.D. also offers "cut-to-size" pieces.

DOM is typically stocked 1020 steel, but may also be 520 or 1026. The 1026 grade is normally for OD's larger than 2" and wall thicknesses heavier than .156".

1020 and 1026 meet ASTM A513 Type 5.


---
Technical Mechanical Properties
| Properties | 1020 | 1026 CDS | 1026 HFS |
| --- | --- | --- | --- |
| Tensile Strength (psi) | 80,000 | 87,000 | 70,000 |
| Yield Point (psi) | 70,000 | 72,000 | 47,000 |
| Elongation % in 2 | 15 | 10 | 28 |
| Rockwell Hardness | RB80 | RB89 | RB78 |
Related Documents
Product Availability
O.D IN.
Wall Thickness
I.D IN.
Weight/Foot(lbs)
SKU#
Add to Quote


0.500


0.095


0.188


0.411 lbs/ft


2 D50095


0.625


0.120


0.385


0.647 lbs/ft


2 D62120


0.750


0.065


0.620


0.476 lbs/ft


2 D75065


0.750


0.083


0.584


0.591 lbs/ft


2 D75083


0.750


0.095


0.560


0.665 lbs/ft


2 D75095


0.750


0.120


0.510


0.807 lbs/ft


2 D75120


0.750


0.156


0.437


0.990 lbs/ft


2 D75156


0.875


0.095


0.685


0.791 lbs/ft


2 D87095


0.875


0.120


0.635


0.968 lbs/ft


2 D87125


0.875


0.156


0.563


1.198 lbs/ft


2 D87156


0.875


0.188


0.500


1.379 lbs/ft


2 D87188


1.000


0.065


0.870


0.649 lbs/ft


2 D100065


1.000


0.095


0.810


0.918 lbs/ft


2 D100095


1.000


0.120


0.760


1.128 lbs/ft


2 D100125


1.000


0.156


0.687


1.406 lbs/ft


2 D100156


1.125


0.120


0.885


1.288 lbs/ft


2 D112125


1.250


0.065


1.120


0.823/lb


2 D125065


1.250


0.083


1.120


1.034 lbs/ft


2 D125083


1.250


0.095


1.060


1.172 lbs/ft


2 D125095


1.250


0.120


1.010


1.448 lbs/ft


2 D125120


1.500


0.065


1.370


0.996 lbs/ft


2 D150065


1.500


0.083


1.334


1.256 lbs/ft


2 D150083


1.500


0.095


1.310


1.426 lbs/ft


2 D150095


1.500


0.120


1.260


1.769 lbs/ft


2 D150120


1.625


0.120


1.385


1.929 lbs/ft


2 D162120


1.750


0.083


1.584


1.478 lbs/ft


2 D175083


1.750


0.095


1.560


1.679 lbs/ft


2 D175095


1.750


0.120


1.510


2.089 lbs/ft


2 D175120


1.750


0.250


1.250


4.005 lbs/ft


2 D175250


2.000


0.120


1.760


2.409 lbs/ft


2 D0200120