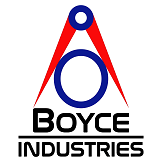 A.E.D. METAL PRODUCTS is pleased to offer the products from our sister company, BOYCE INDUSTRIES.
About BOYCE INDUSTRIES:
BOYCE INDUSTRIES originally began in the Chicago area in 1964 by Robert Boyce. Since then, it became a performance-oriented company offering custom and contract tube bending services to motorsports and commercial applications. BOYCE has long provided high-quality products and services used in motorsports, from the design and fabrication of race car chassis to the manufacturing of competition-proven racing products.
In March 2019, key members of A.E.D. METAL PRODUCTS (Indianapolis, IN) and McKinney Corporation (Lafayette, IN) purchased BOYCE INDUSTRIES, and moved it to Indianapolis, currently located next to A.E.D. on the northwest side of the city.
A.E.D. and McKinney are both recognized leaders in the performance, automotive, aviation, and aerospace industries, and both companies are certified ISO 9001-2015.
These quality practices are also implemented at BOYCE Industries and should be ISO certified by the end of 2023.
BOYCE specializes in custom and contract tube bending, tube reshaping, and tube end finishing services, such as cutting, expanding, reducing, notching, drilling, and custom welding.
BOYCE is equipped to handle jobs from "prototype through production" and can supply both simple bends and completely formed and welded assemblies.
Our Production Shop inventories over 1000 different bend-die combinations and has capacity to mandrel bend Aluminum, Brass, Mild Steel, Alloy Steel and Stainless Steel Tubes. Our capabilities range from 3/4" to 4" OD Round Tubes and 1" to 4" Square and Rectangular Tubes in a variety of wall thicknesses.
Please click here to visit BOYCE's catalog offerings at AED.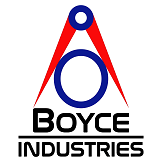 BOYCE INDUSTRIES
5377 W 86TH STREET,
INDIANAPOLIS, IN 46268
PH 708-345-0455
FAX 317-879-9397