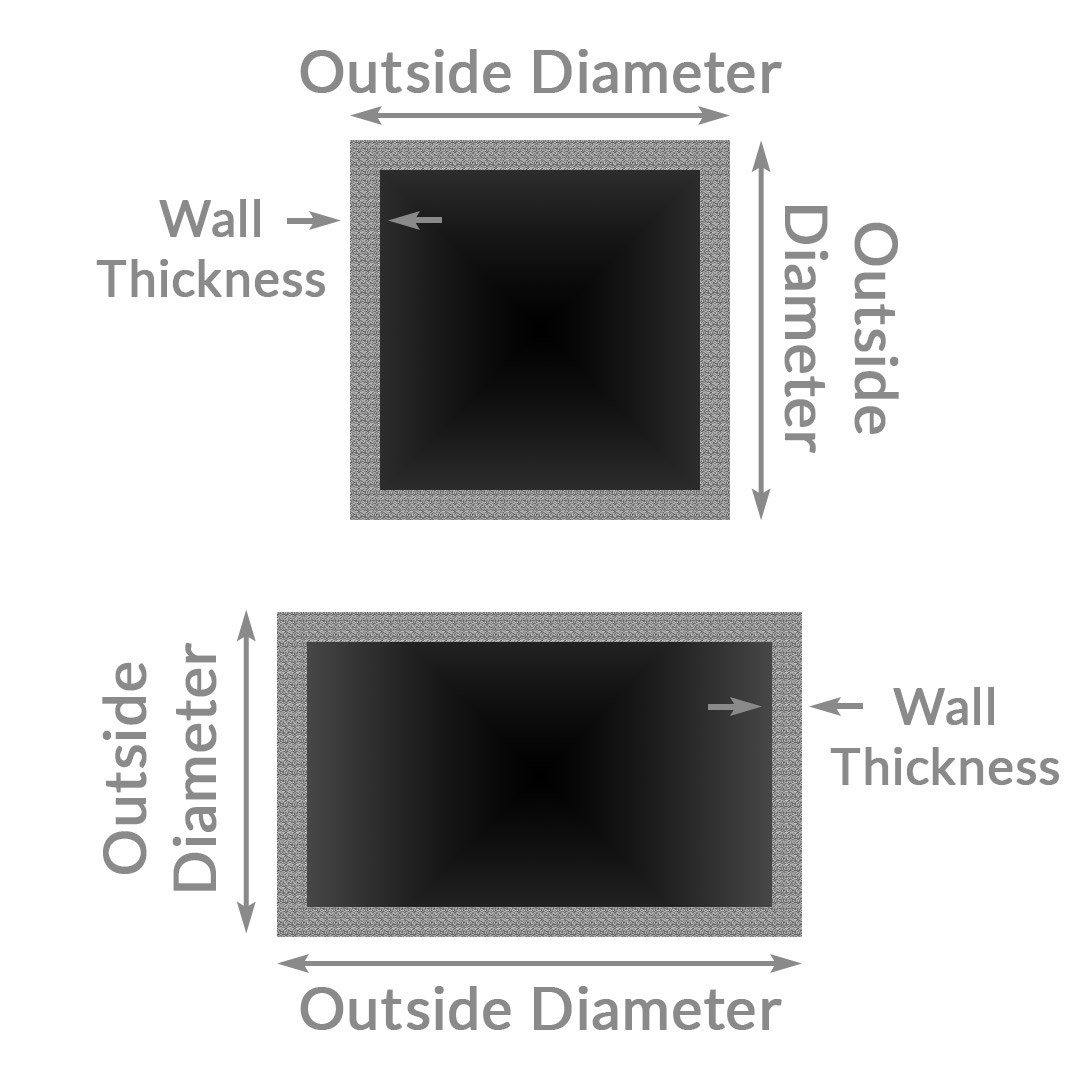 6063 Aluminum: architectural alloy, developed primarily for extrusions, relatively high tensile properties, excellent finishing characteristics, and high corrosion resistance.
AED Stocks a large selection of 6063 Square and Rectangular Tubes. Meets Federal Specification QQ-A-200/9
Stocked in lengths 21' 1"; cut pieces are available.
Sizes besides those listed below are also available generally in full lengths.
Technical Mechanical Properties
| Property | T52 |
| --- | --- |
| Tensile Strength (psi) | 27,000 |
| Yield Point (psi) | 21,000 |
| Elongation % in 2 | 12 |
| Brinell Hardness | 60 |
Product Availability
O.D IN.
Wall Thickness
Weight/Foot(lbs)
SKU#
Add to Quote


.50 x 1.00


0.125


0.3638 lbs/ft


3 60TR.501125


.75 x .75


0.062


0.1986 lbs/ft


3 60TS75065


.75 x .75


0.125


0.3638 lbs/ft


3 60TS75125


1.00 x 1.00


0.062


0.2708 lbs/ft


3 60TS1062


1.00 x 1.00


0.125


0.5093 lbs/ft


3 60TS10125


1.00 x 1.50


0.125


0.6548 lbs/ft


3 60TR1001500


1.00 x 2.00


0.125


0.8003 lbs/ft


3 60TR12125


1.00 x 3.00


0.125


1.091 lbs/ft


3 60TR13125


1.25 x 1.25


0.125


0.6548 lbs/ft


3 60TS1.2125


1.50 x 1.50


0.125


0.8003 lbs/ft


3 60TS1.5125


1.50 x 2.00


0.125


0.9458 lbs/ft


3 60TR1.52125


1.75 x 1.75


0.125


0.9458 lbs/ft


3 60TS1.7125


2.00 x 2.00


0.125


1.091 lbs/ft


3 60TS2125


2.00 x 3.00


0.125


1.382 lbs/ft


3 60TR200300125


2.00 x 4.00


0.125


1.673 lbs/ft


3 60TR24125


2.00 x 6.00


0.125


2.255 lbs/ft


3 60TR26125


3.00 x 3.00


0.125


1.673 lbs/ft


3 60TS3125


3.00 x 6.00


0.187


3.819 lbs/ft


3 60TR36125