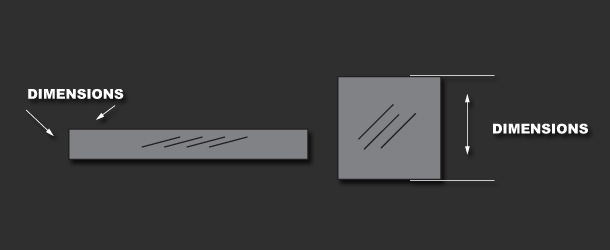 7075 Aluminum: one of the highest strength aluminum alloys used for highly stressed parts where strength is extremely critical, good machinability, excellent strength-to-weight ratio, only average corrosion resistance; improve resistance is normally obtained by cladding parts. Sometimes used in place of 2024.
A.E.D. METALS typically stocks 7075 Flat and Square Bars in extruded form (T6511), which meets Federal Specification QQ-A-200/11.
Cold finished (T651), which meets QQ-A-225/9, may also be available on request.
Technical Mechanical Properties
| Property | 7075-0 Bare | 7075-T6, T651 Bare | 7075-0 Alclad | 7075-T6, T651 Alclad |
| --- | --- | --- | --- | --- |
| Tensile Strength (psi) | 33,000 | 83,000 | 32,000 | 76,000 |
| Yield Strength (psi) | 15,000 | 73,000 | 14,000 | 67,000 |
| Elongation % in 2 | 17 | 11 | 17 | 11 |
| 1/2 | 16 | 11 | - | - |
| Min. 90 Cold Ben Radius for .064 | 0 | 0-1T | - | - |
| Brinell Harness | 60 | 150 | - | - |
| Ultimate Shearing Strenght (psi) | 22,000 | 48,000 | 22,000 | 46,000 |
Related Documents
Product Availability
Thickness
Width
Weight
SKU#
Add to Quote


0.50


1.00


0.606 lbs/ft


3 70BF50100


0.75


1.00


0.909 lbs/ft


3 70BF75100


0.75


1.50


1.363 lbs/ft


3 70BF75150


0.75


2.00


1.818 lbs/ft


3 70BF75200


0.75


3.00


2.727 lbs/ft


3 70BF75300


0.75


4.00


3.636 lbs/ft


3 70BF75400CF


0.75


6.00


5.454 lbs/ft


3 70BF75600


1.00


1.00


1.212 lbs/ft


3 70BS0100


1.00


1.50


1.818 lbs/ft


3 70BF1001500


1.00


2.00


2.424 lbs/ft


3 70BF0100200


1.00


3.00


3.636 lbs/ft


3 70BF0100300


1.00


4.00


4.848 lbs/ft


3 70BF01004


1.25


1.50


2.274 lbs/ft


3 70BF0125150


1.25


2.00


3.030 lbs/ft


3 70BF0125200


1.25


2.50


3.787 lbs/ft


3 70BF0125250


1.25


4.00


6.059 lbs/ft


3 70BF0125400


1.50


2.00


3.636 lbs/ft


3 70BF0150200


1.50


2.50


4.545 lbs/ft


3 70BF0150250


2.00


2.00


4.848 lbs/ft


3 70BS200


2.00


4.00


9.696 lbs/ft


3 70BF0200400


2.500


4.00


12.120 lbs/ft


3 70BF0250400