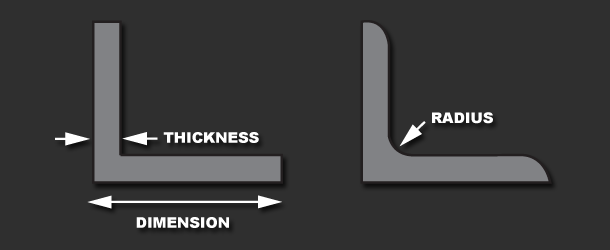 HR Steel angles are stocked in 20-foot random lengths in several sizes, generally with equal legs. Other sizes, including angles with unequal legs, channels, and beams may be available on request.
These products meet ASTM A36, which is a standard specification for structural steel. They are commonly used in all forms of construction and building, as well as general purpose usage.
The best pricing is always when you order full lengths, which can be cut for economical shipping methods. A.E.D. METALS also offers "cut-to-size" pieces.
Technical Mechanical Properties
| Property | ASTM A36 |
| --- | --- |
| Tensile Strength (psi) | 58,000-80,000 |
| Yield Strength (psi) | 36,000 min |
| Elongation (% in 8 | 20 min |
Product Availability
Size
Thickness
Weight/Foot(lbs)
SKU#
Add to Quote


.500 x .500


.125


0.38


2 HRA5512


.750 x .750


.125


0.59


2 HRA757512


1.00 x 1.00


.125


0.80


2 HRA1112


1.25 x 1.25


.125


1.01


2 HRA121212


1.50 x 1.50


.125


1.23


2 HRA151512


1.50 x 1.50


.250


2.34


2 HRA151525


1.75 x 1.75


.250


2.77


2 HRA171725


2.00 x 2.00


.125


1.65


2 HRA202012


2.00 x 2.00


.187


2.44


2 HRA202018


2.00 x 2.00


.250


3.19


2 HRA202025


2.50 x 2.50


.187


3.07


2 HRA252518


3.00 x 2.00


.188


3.07


2 HRA302018


3.00 x 2.00


.250


4.10


2 HRA302025


3.00 x 2.00


.375


5.90


2 HRA302037


3.00 x 2.00


.500


8.50


2 HRA302050


3.00 x 3.00


.187


3.71


2 HRA33187


3.00 x 3.00


.250


4.90


2 HRA33250


3.00 x 3.00


.500


9.40


2 HRA33500


4.00 x 3.00


.250


5.80


2 HRA403025


4.00 x 3.00


.375


8.50


2 HRA403037


4.00 x 4.00


.250


6.60


2 HRA44250


4.00 x 4.00


.375


9.80


2 HRA4437


5.00 x 3.00


.250


6.60


2 HRA503025


5.00 x 3.00


.500


12.80


2 HRA503050


5.00 x 5.00


.375


12.3


2 HRA505375