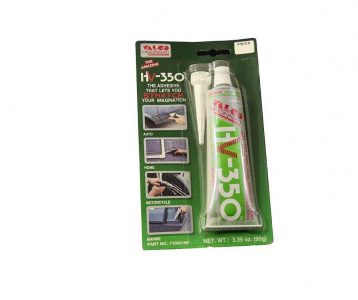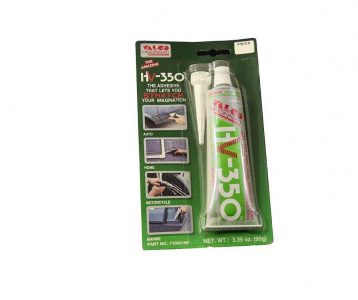 HV-350 Multi-Purpose Adhesive
$9.00
HV-350™ is a one-part, multi-purpose adhesive that virtually outperforms any glue, epoxy or silicone on the market today. The "HV" stands for high vibration. Due to its tremendous elasticity, HV-350 is ideal for high-vibration applications. HV-350 can be stretched up to 600 percent of its original length.
Unlike silicone, HV-350 can be sanded and then painted with either oil-based or water-based paints. It is also abrasive-resistant and flexible, allowing use on high-wear surfaces. This glue is used almost anywhere, from highly porous surfaces such as cinder blocks to nonporous surfaces such as metal and glass.
3.35 OZ. Tube & Nozzle
Product Tips:
Use HV-350 to adhere mats, repair fiberglass, mend rips in wet suits, waterproof electrical components, attach plastic and carbon fiber parts. Use it plumbing, motorcycle, home improvement, automotive, industrial, and arts-and-crafts applications. In its fully cured state, HV-350 maintains its adhesive and sealant properties even when completely submerged in water—making it ideal for watercraft.
Mix HV-350™ with Solvent 184, or any other fast evaporating solvent. Make viscous liquid that can be brushed on. Use as a water proofer, sealant, or on porous materials as glue.
Product Availability
MSRP
Name
SKU#


9.0000


HV-350 NON-SLUMP, 3.35 oz. tube


710XX155