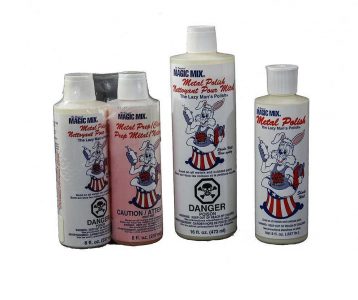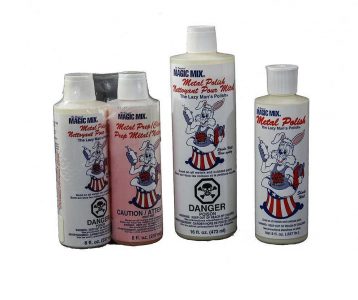 Magic Mix Metal Polish
$23.13
Magic Mix Metal Polish delivers shine and protection to aluminum, stainless steel, chrome, gold, silver, copper, brass and magnesium. Other paste-type polishes only permit small areas to be shinned at once, they cannot be allowed to dry beacause the polish becomes very difficult to remove. But with Magic Mix Metal Polish, users can polish an entire surface, allow it to dry and simply dust it off. What's left is a beautiful shine without the repetitive rub-on, wipe-off exercise required by other polishes.
Product Tips:
Do you have black streaks on your semi-trailer, motorhome, etc.? This phenomenon is from the aluminum rivets and rain gutters oxidizing. Polluted rain facilitates the process. Use Magic Mix Polish and Magic Mix Body Wax to clean. Mix the two products together to make 16 ozs. Clean vehicle as if waxing. You'll be amazed by the results.
Do you have a vehicle, boat, or hot tub with oxidized (chalking) paint or fiberglass? Use Magic Mix Metal Polish and a soft cloth. With light to moderate pressure give these surfaces a finish that looks like new. Always reseal the surface with Magic Mix Body Wax to keep it looking nice.
Product Availability
MSRP
Name
SKU#


23.1300


Metal Mix Polish/Prep Set 8 OZ. Bottles


710XX610


11.5000


Magic Mix Polish 8 OZ. Bottle


710XX611


19.9500


Magic Mix Polish 16 OZ. Bottle


710XX640