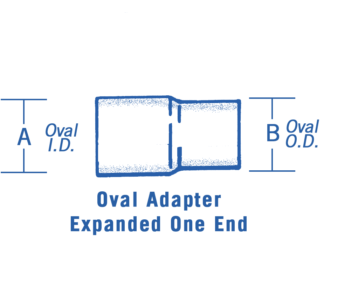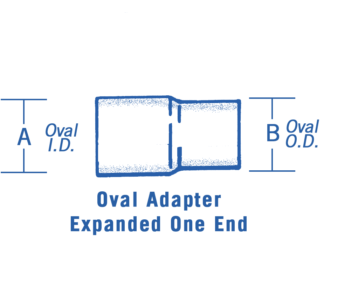 Oval Steel Coupler Adapters
Items with $.01 cost or 0.01# weight:
Please call!
$0.01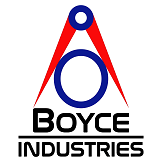 All OVAL TRANSITIONS AND ADAPTORS ARE MANUFACTURED FROM FULLY WELDABLE .065" WALL (16GA) MILD STEEL TUBE.
MAY ALSO BE AVAILABLE IN .065" WALL (16GA) STAINLESS STEEL OR ALUMINIZED STEEL.
NO PART IS GUARANTEED TO BE IN STOCK.
Product Availability
Weight
Size
SKU#


2.2


3-1/2" Oval Steel Expanded One End 3-1/2"ID x 3-1/2"OD Adapter


OP35E


1.4


2-1/2"ID Round Steel Expanded to 3"OD Oval Adapter


ROA25E30


1.4


2-1/2"OD Round Steel To 3"ID Oval Expanded Adapter


ROA2530E


1.8


2-1/2"ID Round Steel Expanded to 3" Oval ID Expanded Adaptors


ROA25E30E


1.72


3"OD Round Steel Expanded to 3-1/2"ID Oval Adapters


ROA30E35


2.48


3-1/2"ID Round Steel Expanded To 4"OD Oval Adapters


ROA35E40