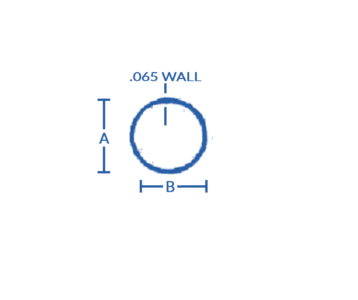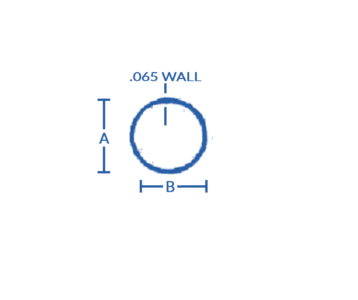 Straight Round Steel Tubes


A = Outside Diameter, B = Inside Diameter, .065 Wall.

Items with $.01 cost or 0.01# weight:
Please call!
$0.01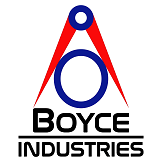 ALL STRAIGHT ROUND SECTIONS ARE FULLY WELDABLE .065" WALL (16GA) MILD STEEL ROUND TUBE.
STRAIGHT ROUND SECTIONS MAY ALSO BE AVAILABLE WITH ONE EXPANDED ENDS.
MAY ALSO BE AVAILABLE IN .065" WALL (GA) STAINLESS STEEL OR ALUMINIZED STEEL.
NO PART IS GUARANTEED TO BE IN STOCK.
Product Availability
Weight
Size
SKU#


21.856


4" O.D. x 96" Long Straight Round Steel Tubes


P4096


13.66


4" OD x 60" Long Straight Round Steel Tubes


P4060


10.928


4" OD x 48" Long Straight Round Steel Tubes


P4048


8.196


4" OD x 36" Long Straight Round Steel Tubes


P4036


5.464


4" OD x 24" Long Straight Round Steel Tubes


P4024


2.732


4" OD x 12"Long Straight Round Steel Tubes


P4012


19.08


3-1/2" OD x 96" Long Straight Round Steel Tubes


P3596


11.925


3-1/2" OD x 60" Long Straight Round Steel Tubes


P3560


9.54


3-1/2" OD x 48" Long Straight Round Steel Tubes


P3548


7.155


3-1/2" OD x 36" Long Straight Round Steel Tubes


P3536


4.77


3-1/2" OD x 24" Long Straight Round Steel Tubes


P3524


2.385


3-1/2" OD x 12" Long Straight Round Steel Tubes


P3512


16.296


3" OD x 96" Long Straight Round Steel Tubes


P3096


10.185


3" OD x 60" Long Straight Round Steel Tubes


P3060


8.148


3" OD x 48" Long Straight Round Steel Tubes


P3048


6.111


3" OD x 36" Long Straight Round Steel Tubes


P3036


4.074


3" OD x 24" Long Straight Round Steel Tubes


P3024


2.037


3" OD x 12" Long Straight Round Steel Tubes


P3012


13.52


2-1/2" OD x 96" Long Straight Round Steel Tubes


P2596


8.45


2-1/2" OD x 60" Long Straight Round Steel Tubes


P2560


6.76


2-1/2" OD x 48" Long Straight Round Steel Tubes


P2548


5.07


2-1/2" OD x 36" Long Straight Round Steel Tubes


P2536


3.38


2-1/2" OD x 24" Long Straight Round Steel Tubes


P2524


1.69


2-1/2" OD x 12" Long Straight Round Steel Tubes


P2512


12


2-1/4" OD x 96" Long Straight Round Steel Tubes


P2296


7.5


2-1/4" OD x 60" Long Straight Round Steel Tubes


P2260


6


2-1/4" OD x 48" Long Straight Round Steel Tubes


P2248


4.5


2-1/4" OD x 36" Long Straight Round Steel Tubes


P2236


3


2-1/4" OD x 24" Long Straight Round Steel Tubes


P2224


1.5


2-1/4" OD x 12" Long Straight Round Steel Tubes


P2212


10.744


2" OD x 96" Long Straight Round Steel Tubes


P2096


6.715


2" OD x 60" Long Straight Round Steel Tubes


P2060


5.372


2" OD x 48" Long Straight Round Steel Tubes


P2048


4.029


2" OD x 36" Long Straight Round Steel Tubes


P2036


2.686


2" OD x 24" Long Straight Round Steel Tubes


P2024


1.343


2" OD x 12" Long Straight Round Steel Tubes


P2012


9.36


1-3/4" OD x 96" Long Straight Round Steel Tubes


P1796


5.85


1-3/4" OD x 60" Long Straight Round Steel Tubes


P1760


4.68


1-3/4" OD x 48" Long Straight Round Steel Tubes


P1748


3.51


1-3/4" OD x 36" Long Straight Round Steel Tubes


P1736


2.34


1-3/4" OD x 24" Long Straight Round Steel Tubes


P1724


1.17


1-3/4" OD x 12" Long Straight Round Steel Tubes


P1712


7.9696


1-1/2" OD x 96" Long Straight Round Steel Tubes


P1596


4.981


1-1/2" OD x 60" Long Straight Round Steel Tubes


P1560


3.9848


1-1/2" OD x 48" Long Straight Round Steel Tubes


P1548


2.9886


1-1/2" OD x 36" Long Straight Round Steel Tubes


P1536


1.9924


1-1/2" OD x 24" Long Straight Round Steel Tubes


P1524


.9962


1-1/2" OD x 12" Long Straight Round Steel Tubes


P1512