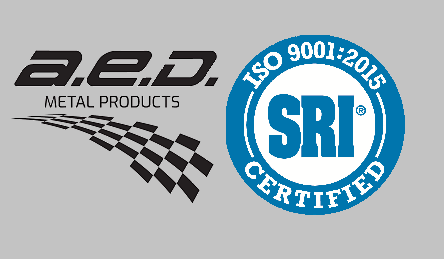 ---
On Wednesday 7/10/18, A.E.D. METAL PRODUCTS passed our ISO quality audit to become ISO 9001:2015 quality compliant. A.E.D. first earned ISO 9001 certification in 2015 and we can proudly say we have passed every yearly audit with zero findings.

ISO 9001:2015 is an internationally accepted set of quality management system requirements that can be applied to any service or manufacturing organization. ISO certification provides proven, successful approaches to achieving customer, society, and management quality goals, and it is the foundation for the development of a quality system. It enables process improvement and boosts an organization's effectiveness and efficiency.
A.E.D. adopted the ISO quality management system to better serve our current customer base and open doors to new opportunities with the OEMs in automotive, aircraft, aerospace, and power sports markets, which typically require their suppliers to be under an international standard. Since adopting ISO 9001, A.E.D. has been quite successful attracting new customers and penetrating new markets. Our greatest return from the ISO certification has been serving our customers with faster deliveries, fewer mistakes, and increased quality of materials, all while meeting rigorous requirements and demands.
---
Sign up for our monthly newsletter below to stay up to date
with articles like this one from A.E.D. METAL PRODUCTS!
---