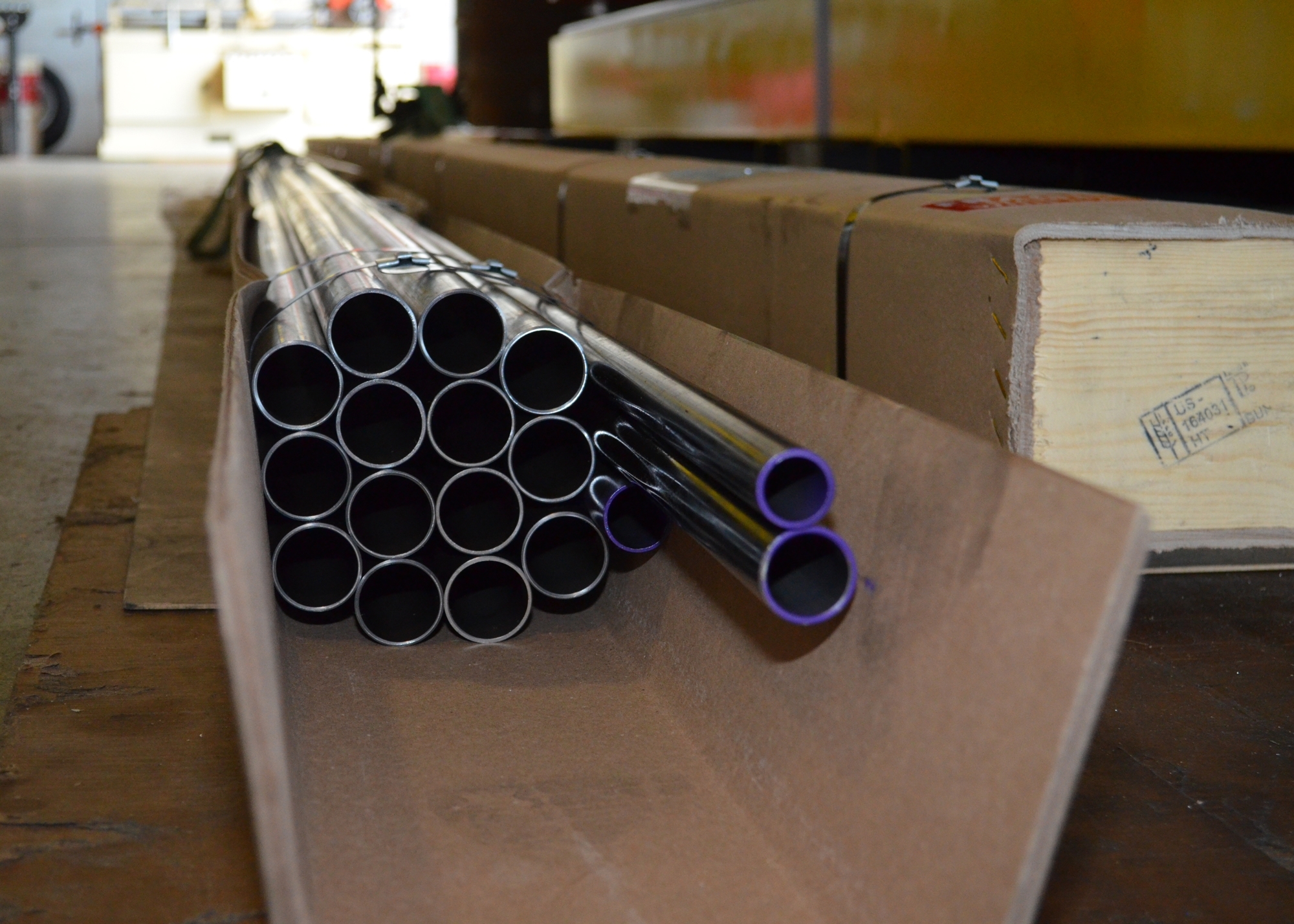 .
At A.E.D. METAL PRODUCTS, the delivery of your order in good condition is of great importance to us. We take extra care packing orders for shipment, whether it is sending a package by UPS, a bundle of tube across the USA, or an overseas shipment and we are very particular in the quality of our packaging materials.
Orders are packed based on the type of material being shipped, the size of material, and the final destination.
---
Tubular and Bar Materials (full lengths) - North America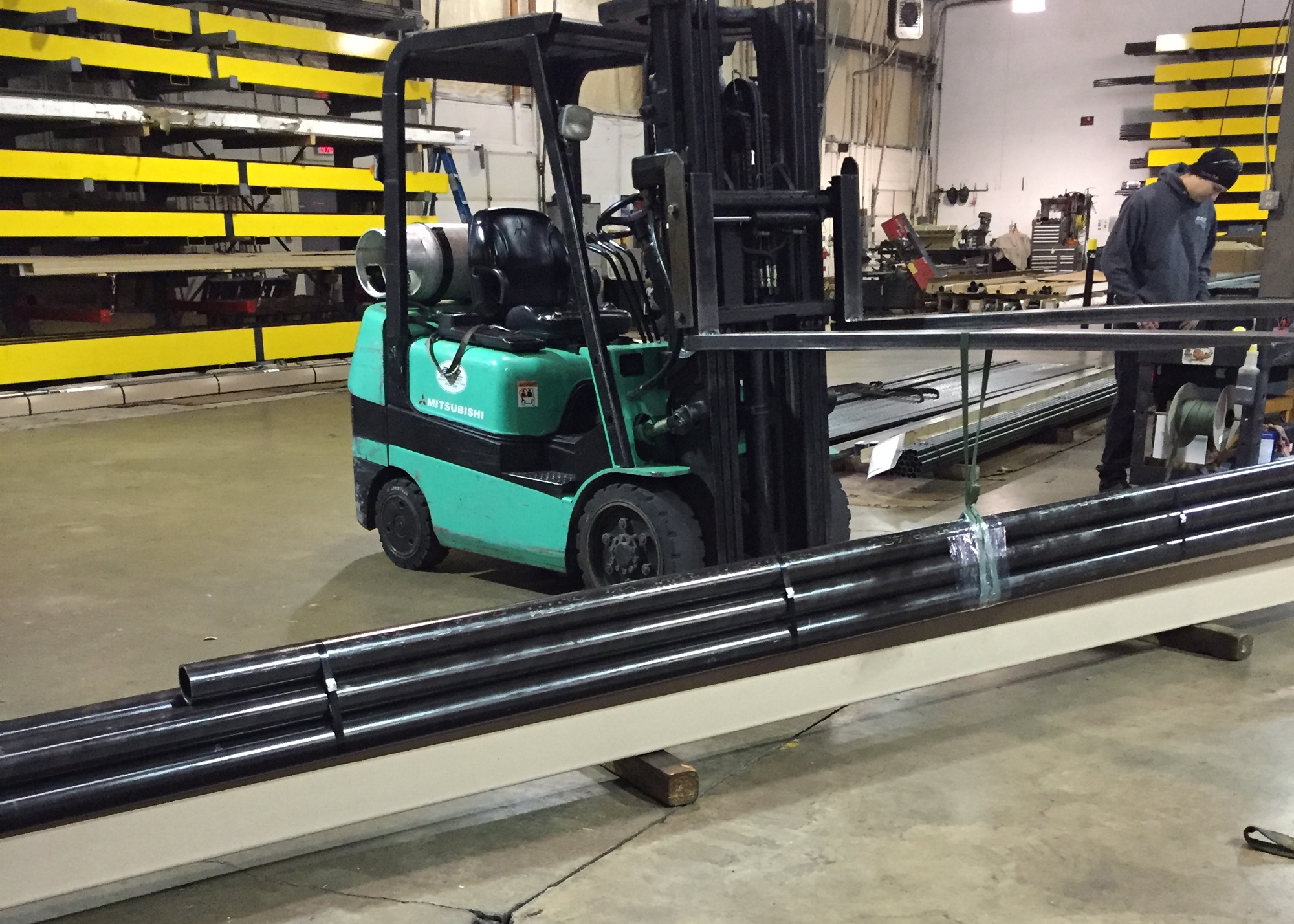 .
When we ship tube and bar products in full lengths, all of the materials on the order are packed into a bundle first, and then we secure a custom sling to the center of the bundle. This creates a balanced pick up point for easier loading and unloading. Then we load the bundle into a 3-sided cardboard box, which protects the material from potential damage that may occur during transit. This allows us to classify the shipment as "protected freight" if a freight claim must be filed, although rare, it does occur from time to time.
---
Sheets Materials – North America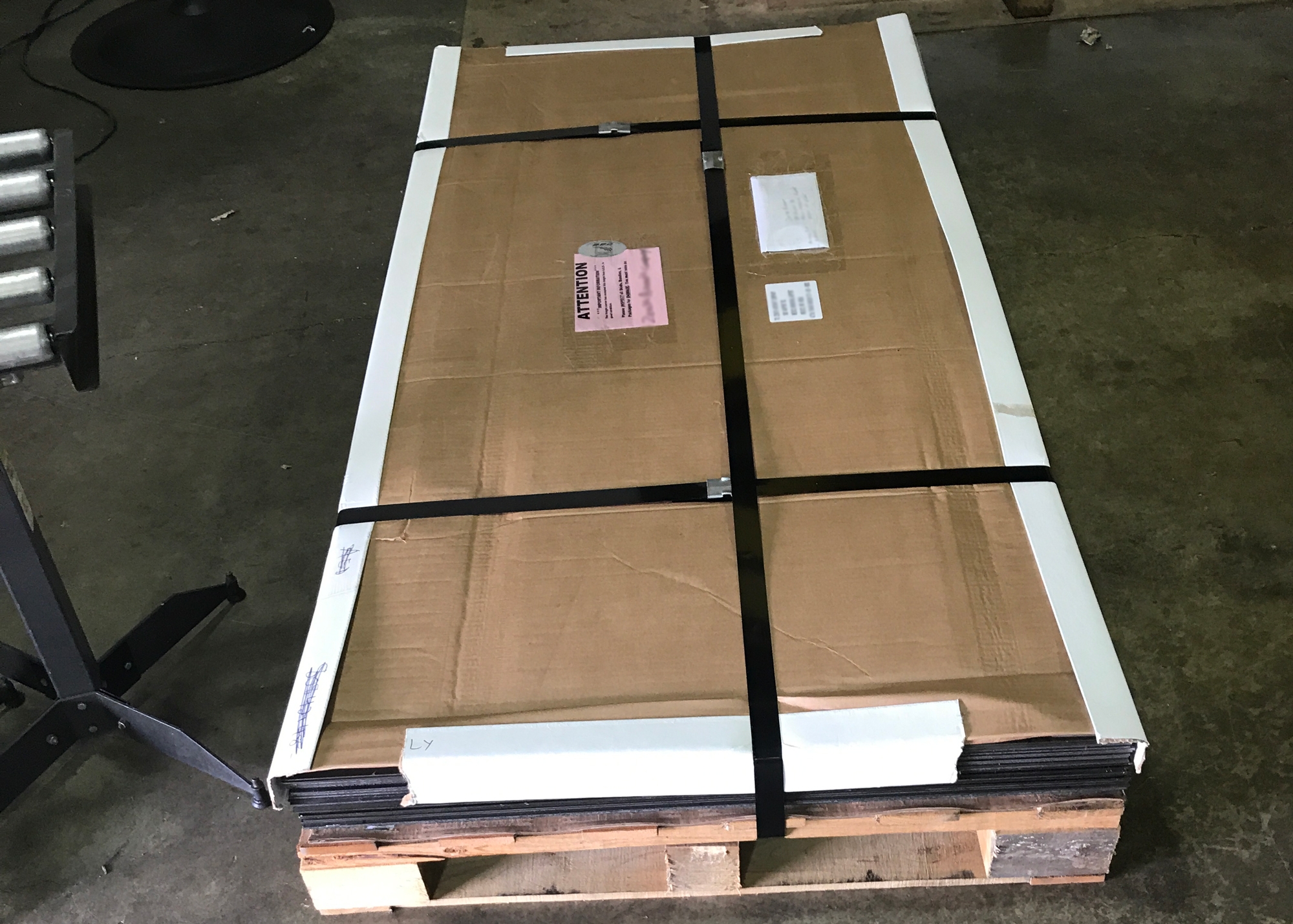 A.E.D. uses wood skids to package and ship sheet goods, whether it is steel, aluminum or stainless. First, a quality skid is selected from our stock or custom built depending on the dimensions of the sheets. Next, we place a piece of cardboard or OSB on top of the skid, depending on the thickness of the sheets ordered, and then the sheets are stacked onto the skid. Another piece of cardboard or OSB is placed on top, and then the sheets are banded to the skid with special attention placed on location of the bands to ensure there is no damage to the sheet. Additional cardboard or other safeguards are frequently used during this process to further protect the sheets in transit.

---
What if I don't need full lengths?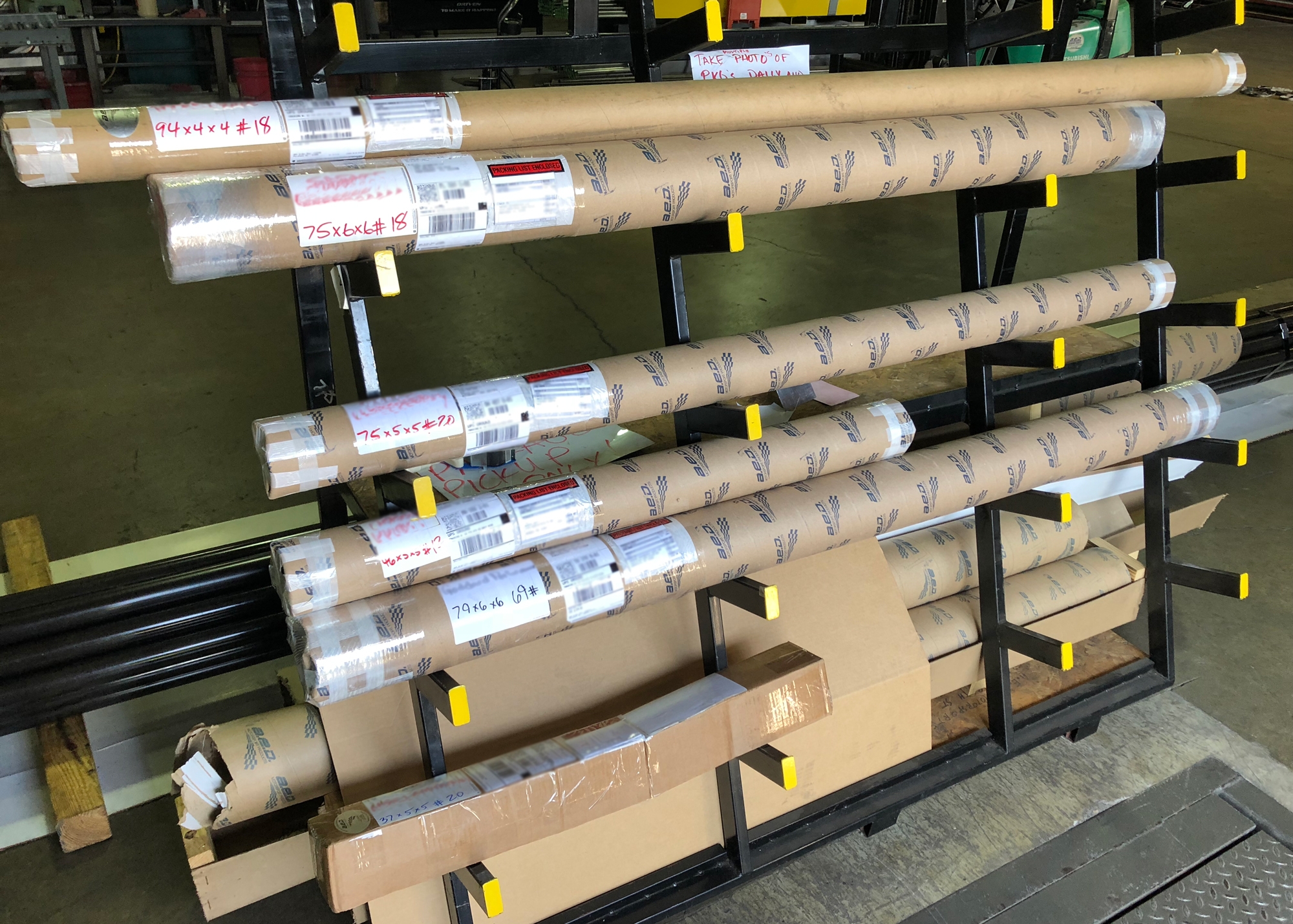 UPS package service is available for smaller orders that are typically less than 100 lbs. We recommend shipping material no longer than 90" for tubular and bar materials and 48" length x 40" width for sheet materials via UPS. We can ship up to 96" of tubes or bars, but the rates have increased significantly in recent years.
We slide tubes and bars into .250" thick cardboard tubes. We have a variety of I.D. sizes available to best optimize the package size. Additional strips of cardboard or paper are used as stuffing to reduce material movement inside the package. The cardboard tube is capped and taped fully encasing the material.
Sheet goods are completely wrapped in cardboard and sealed with tape. A piece of OSB is also used to protect thinner sheets from damage during transit.

---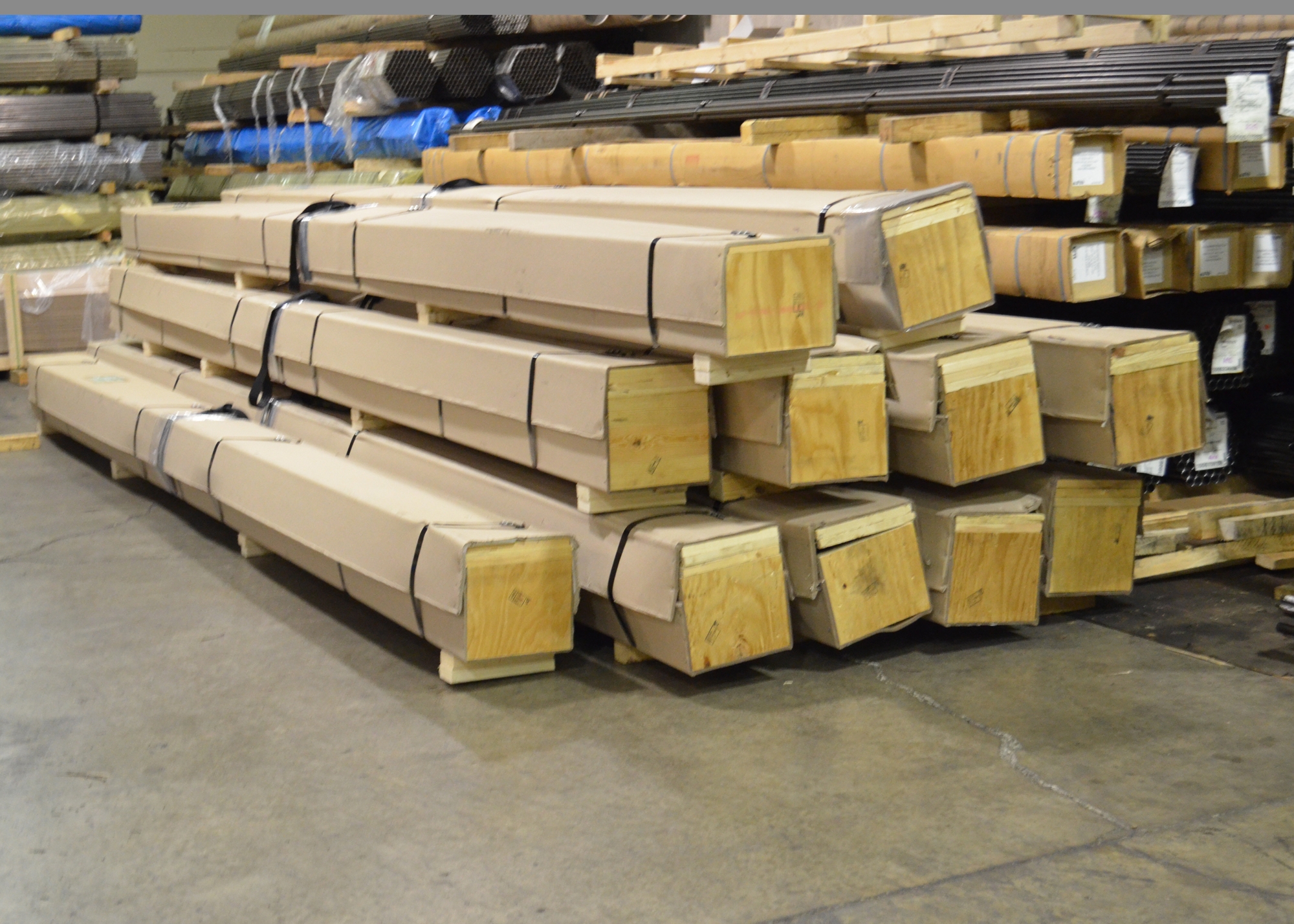 A.E.D. has been shipping our products outside the USA for many years, and we do so on a regular basis. Most international orders are shipped by Airfreight, but we are just as comfortable sending material by Ocean as well.
We strongly suggest cutting tubes and bars to no longer than 10-footers plus the drops for air shipments, but we always to try to work within our customers' requirements. Modifications may be made to our packaging methods described above.
For tube and bar orders shipped via Sea, we pack the materials in special VCI lined cardboard boxes. These includea top and a bottom as well as heat-treated wood end caps that are used to completely encase the material to protect it from the elements may occur in transit.
Sheet materials (mainly 4130) shipped by Sea are packed in special heated treated export skids. VCI sheeting is added to to protect it from the elements during transport.
Customs documentation is provided to the shipping company. We are comfortable using our carriers or yours.
---
Special Packages and Production Service Orders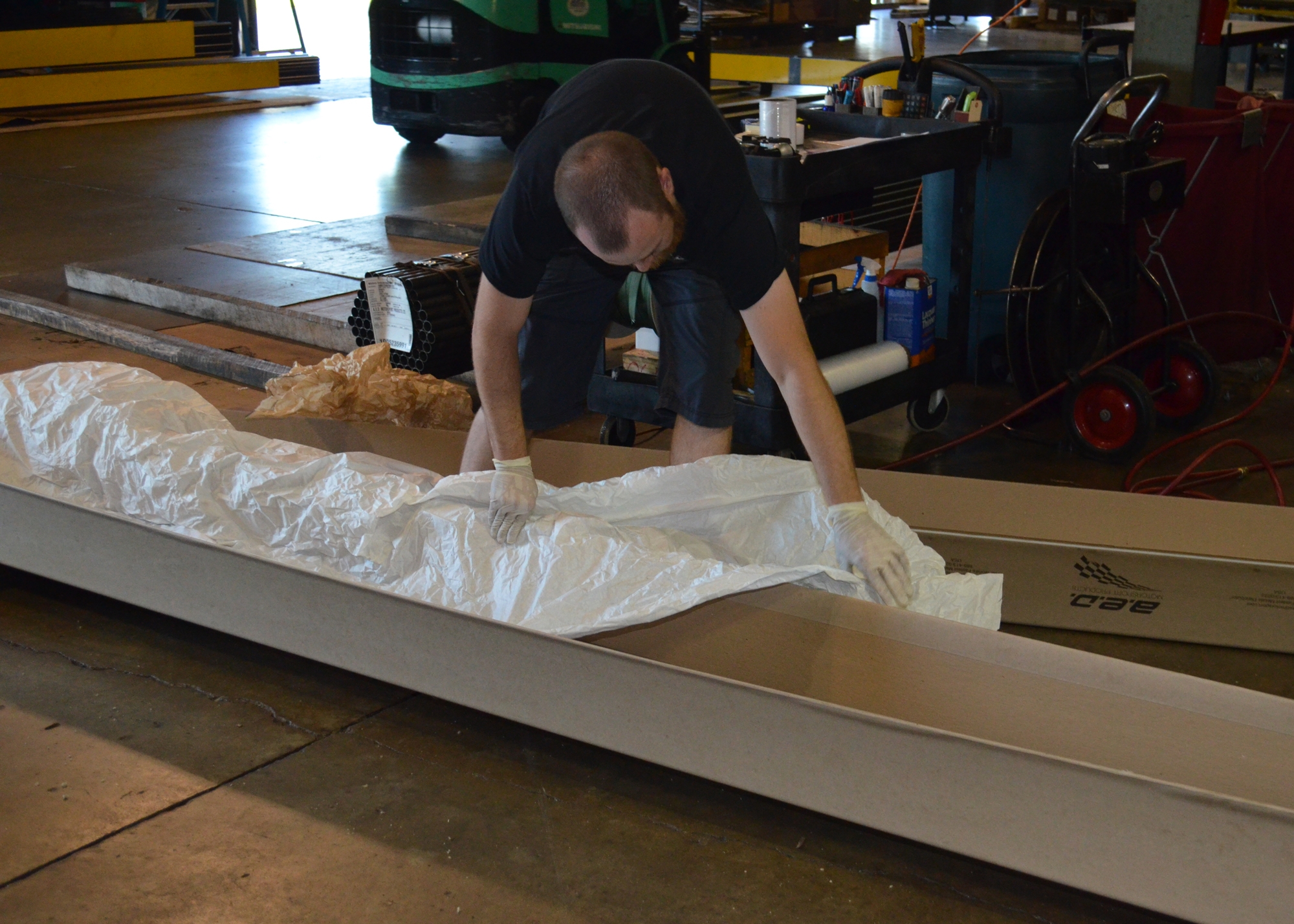 .
Not everything we send out can be packed in the above methods or it needs more protective packaging. Don't worry A.E.D. still has you covered, we will custom build packaging and add packaging when and where it's needed. We also offer special custom packaging on all our production service orders, this includes things such as part identification and protecting critical surface finish parts. Let one of A.E.D.'s knowledgeable sales staff know all your needs.
---
Relationship with our Shipping Companies
Packaging is not the only important thing to us when shipping out your order - who the carrier is matters too. Over the years, we have built strong personal relationships with our carriers, whether it's the LTL freight companies or those we use to ship our products outside the US. We aim to negotiate competitive rates and ensure the material arrives in a timely manner and in good condition. We maintain constant contact with the sales reps for all of our carriers, and we make periodic visits to their local terminals to better understand how our materials move from our place to yours. This has allowed us to improve packaging and to share knowledge of moving these materials with the handlers at the terminals.


---
Sign up for our monthly newsletter below to stay up to date
with articles like this one from A.E.D.!
---