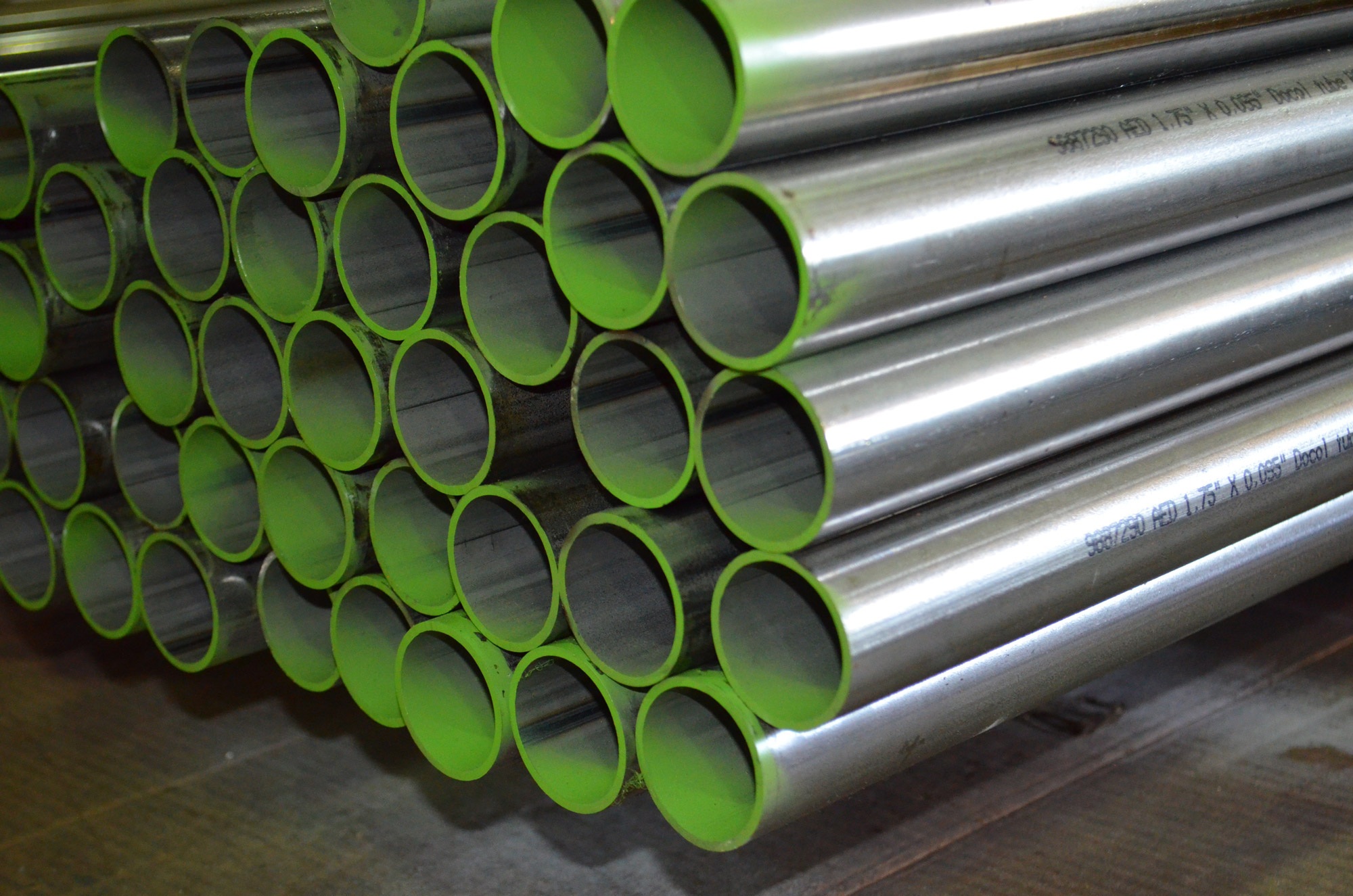 Docol® Tube R8 is an Advanced High Strength Steel tube with a Dual Phase (DP) microstructure. DP steels consist of a ferritic matrix phase containing a hard-martensitic phase in the form of islands (see image to the right). The soft ferrite matrix gives DP steels its excellent ductility, and the hard-martensitic gives it its strength. The lower-strength ferrite surrounding the islands of martensite create the unique high initial work-hardening rate (n-value) when the steel is deformed. This gives DP Steel a much higher ultimate tensile strength than conventional steels.
The first generation of Advanced High Strength Steels (AHSS) like DP started to make their way into the automotive industry in the mid-1990s and it was heavily adopted in the late '90s and early 2000s. The use of AHSS in the automotive industry continues to grow as car makers are required to meet more demanding regulations on safety and emissions. Today, these steels are commonly used in door crash bars, roof bows, A&B pillars, bumpers, foot boxes and seats.
In the early 2010's, A.E.D., partnered with ME Racing and SSAB (Docol® Tube R8's producing mill), set out to bring AHSS to the racing industry. After many discussions with experts throughout the racing industry, it was concluded that a Dual Phase 800 megapascal steel would offer a safer, stronger and more consistent alternative to 4130 Chrome Moly Cold Drawn Seamless Tube, which has been the industry standard for more than 50 years.
Why did A.E.D. set out to find a replacement to 4130 Chrome Moly?
While 4130 has been the go-to material in racing since the 1950s, it has not kept up with performance demands of today's racecars. 4130 seamless tube was first produced between 1915 and 1920 for use in aircraft structures. Today's 4130 has seen many improvements in the manufacturing process creating much more consistent tubes compared to those early tubes, but the material is essentially the same.
How is Docol® Tube R8 produced?
Docol® Tube R8 and Advanced High Strength Steels are complex, sophisticated materials, with carefully selected chemical compositions and multiphase microstructures resulting from precisely controlled heating and cooling processes.
The production of Docol® Tube R8 starts in the iron-ore mines of Sweden and Finland. (Docol® is non-scrap-based material resulting in a very clean material.) Once mined, the iron ore goes through a blast furnace where pig iron is produced. The pig iron then heads to the steel mill where additional elements are added to the pig iron, and the mixture is heated producing molten steel. The molten steel then passes through continuous casters to be formed into slabs. Slabs are then reheated and sent to a continuous quenching and tempering process while being reduced to its final thickness and then rolled into coil form. This quenching and tempering process produces its multiphase microstructure. Various strengthening mechanisms are also employed during this continuous process to achieve the desired strength, ductility, toughness, and fatigue properties. The coils are then cooled and await their next destination.
While many coils are sent to leveling houses around the world where they will be sheeted out and sent to end users, some are transported to another SSAB mill where the coils are slit and prepped for rolling into tubes and ultimately become Docol® R8 tube.
Technical Mechanical Properties
| Tensile Strength min. | Yield Strength min. | Elongation min. % | Diameter Tolerance | Wall Thickness Tolerance |
| --- | --- | --- | --- | --- |
| 116,000 psi | 100,000 psi | 13% | +/- .006" | +/- .005" |
---
Sign up for our monthly newsletter below to stay up to date with articles like this one from A.E.D.!