Streamline Tube Profiles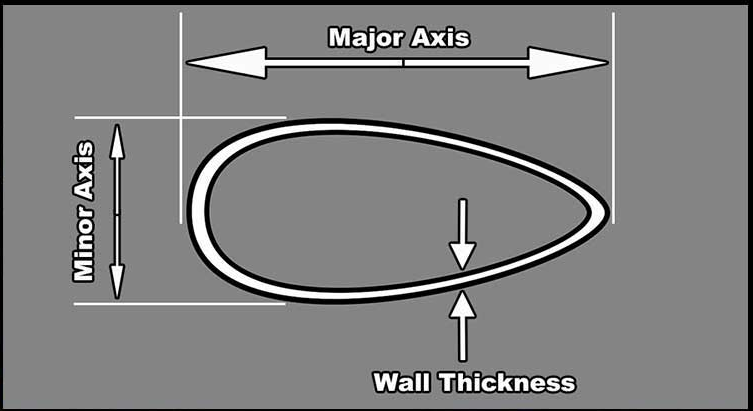 Since 2003, A.E.D. MEATLS has been supplying a custom streamline, oval and egg shaped tubing product that really sets us apart from the traditional streamline tubing.
How's it different? The traditional 4130 streamline is produced by a cold drawn process in short random lengths (typically ranging between 10 and 17 feet), whereas our High Performance streamline is produced by a roll form process, in which round tubes are sent through a progressive series of rollers and dies. While the cold draw can produce streamline faster and in large quantities, our machines produce a more consistent and repeatable shape. Our roll forming process is consistent and gentle operation with fixed tooling. The dies used in the cold drawing process are not fixed and are redressed to produce different sizes, meaning less consistency from batch to batch. This process also has a greater variable in tolerance, so it's not uncommon for traditional streamline tube to have a bow to them yielding a product that is not always very straight.
Our roll form process also allows more wall thickness selections as the streamline tubes maintain the same wall thickness as the parent round tube. Additionally, we can make our "homebrew" in other materials besides 4130. We have successfully produced these shapes in mild steel (ERW and DOM), Docol R8, aluminum, stainless steel, and CP grades of titanium.
In 2013, we brought the machinery in-house, allowing A.E.D. to supply this material even faster than before. Since then, Jason Russell, one of our fabricators, spent many hours perfecting the manufacturing process. In the beginning, we could produce a maximum length of 12 feet of material Jason made modifications to the machines and built special guides that allow us to form full lengths with some minor adjustments in straightness. Under Jason's lead, we have been able to improve the roll form process as well as the quality of Streamline and Oval Tubing.
We have the ability to bypass high minimum orders and long lead times that are typical of the traditional 4130 streamline. As long the required round tube is available, we can produce as little as 6 feet of finished product with a very short turnaround time.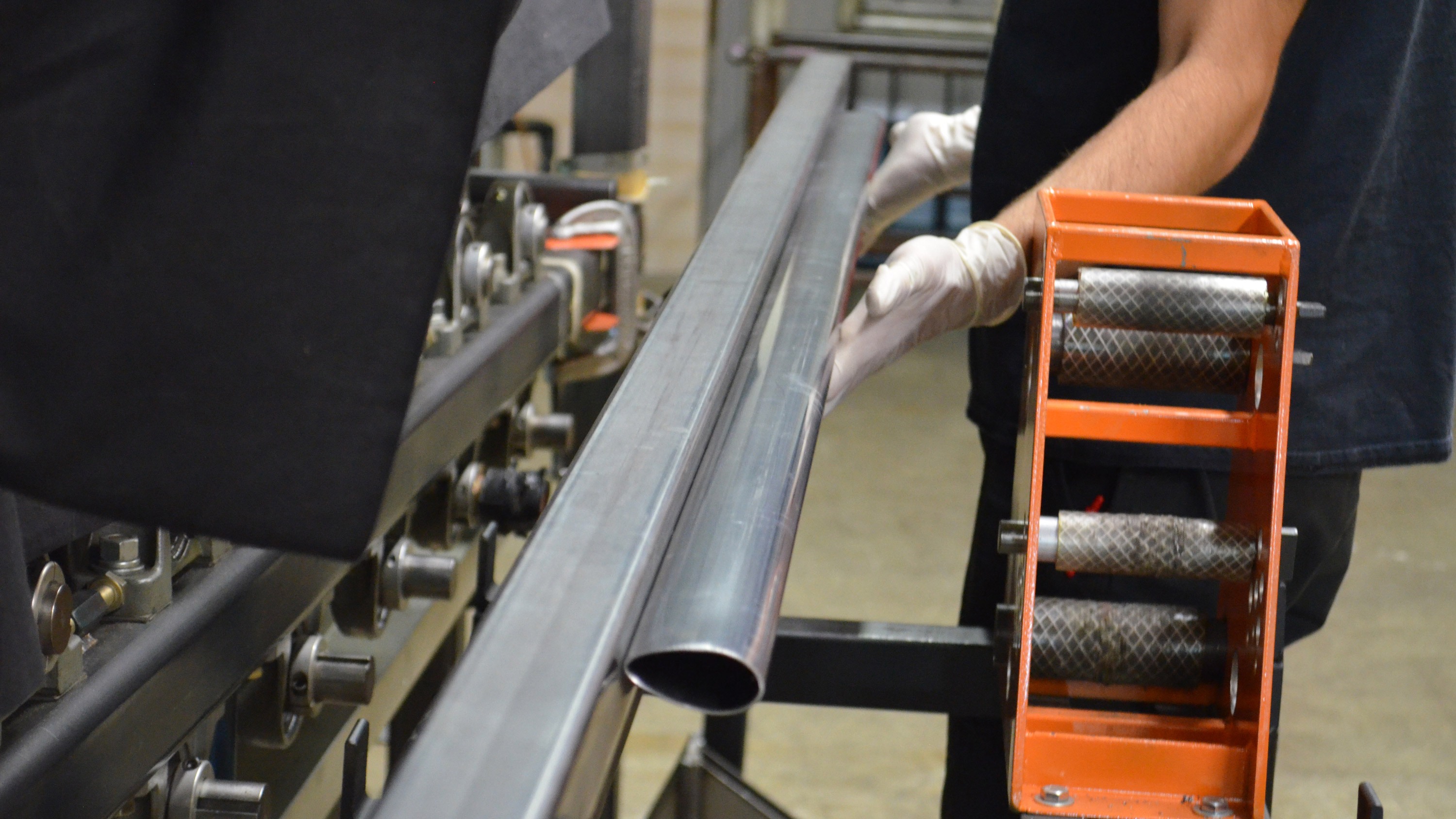 Streamline, Oval and Egg shaped Tube can be produced in the following material:
4130 Chrome Moly
Docol Tube R8
Stainless Steel
Mild Steel
6061-T6
Titanium*
*Please email or call to discuss your titanium roll form needs with our Sales Manager, Dave Gordon at 317-334-0569 or dave@aedmotorsport.com

Streamline, Oval and Egg shaped Sizes
Available in wall thickness .032" to .065"
Shape
Major
Minor
Starting
Round Size
Streamline
0.450"
0.270"
0.375"
Streamline
0.550"
0.295"
0.438"
Streamline
0.640"
0.325"
0.500"
Streamline
0.775"
0.430"
0.625"
Egg Shape
0.750"
0.440"
0.625"
Egg Shape
0.865"
0.575"
0.750"
Streamline
0.980"
0.445"
0.750"
Streamline
1.150"
0.520"
0.875"
Streamline
1.300"
0.600"
1.000"
*Oval
1.245"
0.925"
1.125"
*Oval
1.360"
1.065"
1.250"
Streamline
1.645"
0.740"
1.250"
Streamline
1.990"
0.870"
1.500"
Streamline
2.360"
0.960"
1.750"
Streamline
2.665"
1.140"
2.000"
*Oval Tubes - 1.245" Major x 0.925" Minor x .049" Wall will Slip Fit into 1.360" Major x 1.065" Minor x .049" Wall*
PLEASE NOTE:
We can run full lengths or as little as 6-feet.

It is important to understand that these profiles DO NOT match exactly to the old "traditional" profiles of the past. The trailing edge (small radius on the minor dimension) has a larger radius. If you are trying to match components from the past, please mention at the time of the quote.
There are no CAD drawings, and there are no tolerances on the finished dimensions. The majors and minors listed are essentially averages of the various material grades and wall thicknesses. They will be close to the listed sizes, but material and wall thickness will slightly affect the finished results.
There are no material test reports (sometimes referred to as "material certifications") available for the finished roll-formed material. Test reports are available for most of the original round tubes at an additional cost. Be sure to discuss with your sales representative at the time of order.
Subject to the availability of round tube.

---