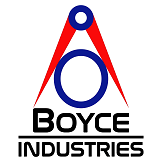 WARRANTY DISCLAIMER
BOYCE INDUSTRIES warrants its products to be free of defects in material and workmanship (which substantially affects performance) for 90 days from the date of purchase. During this period, BOYCE will at its option, repair or replace any part or parts which have prove to be defective if returned to BOYCE, freight prepaid, and this shall be the sole remedy available under this warranty. No claims will be allowed for labor, transportation, or other incidental cost.
This warranty shall not apply if:

~The product was not used to perform the service for which it was intended.
~The product is altered, modified, or converted without the written approval of BOYCE.
~The product is damaged or rendered unserviceable by negligence, malfunction or by any cause within the control of the customer.

RETURN POLICY
All returns of BOYCE products are subject to management approval. A return material authorization (RMA) number is required in advance, and a 25% restock fee will be assessed on non-custom products.
PRICING
Some pricing has been intentionally omitted to insure our customers the best pricing available. Due to various market changes, prices of materials may fluctuate from time to time. We re-quote at the time of order. $25.00 minimum order.
PAYMENT ARRANGEMENTS
BOYCE accepts several payment options. Orders may be charged to: VISA, MASTERCARD, AMERICAN EXPRESS AND DISCOVERY. Please provide card name, account number, expiration date, security codes, cardholder's name, billing address and daytime telephone number.
PRODUCT AVAILABILITY
No part is guaranteed to be in stock. To the best of our knowledge, this is a complete listing of our products and capabilities. In-stock products are determined by material availability and market conditions.
NONDISCLOURE STATEMENT
Due to the nature of our customers and the confidential needs of their businesses, each employee must agree to sign a Nondisclosure Agreement. This is to assure our customers that their drawings, prints, ideas, needs, and future plans are secure. All customer relations are regarded as strictly confidential.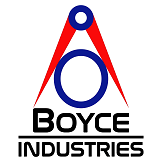 BOYCE INDUSTRIES
5377 W 86TH STREET, INDIANAPOLIS, IN 46268
PH 708-345-0455 - FAX 317-879-9397