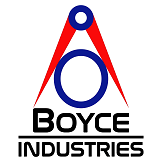 PACKAGING POLICIES REVISED AS OF MARCH 2022.
** SUBJECT TO CHANGE WITHOUT WITHOUT PRIOR NOTIFICATION, BASED ON ECONOMIC AND MARKET CONDITIONS **
BOYCE INDUSTRIES orders placed by 12:00 Noon EST for in-stock materials, typically ship the same day.
Truck Shipments scheduled for in-stock materials, typically ship within 1 business day.
Orders may be picked up at our shop in Indianapolis, Indiana, or we can ship to virtually anywhere!
"Pick-up" orders can be cut to carry away (there is no charge if we cut in half or in thirds, or to "8-footers plus drops").
Local Indianapolis-area delivery is available via A.E.D. METAL PRODUCTS (limited delivery area), Courier Service or United Parcel Service (UPS).
All other orders are shipped by UPS, Common Carrier, and US Mail (International shipments only).
Shipping Options:
UPS Shipping
Common Carrier or Truck Shipments
Customer pickup
UPS SHIPPING:
Insurance is prepaid and added to all orders shipped by UPS. We will be happy to use your UPS Account to charge shipping, however packaging charges will be added to your order.
Full length tubes and bars may be cut to a maximum of 90" pieces plus the drops for no charge. We can cut material shorter, but 90" is the longest.
NOTE: Packages longer than 96" are no longer desirable to UPS and will incur significant additional costs. It is recommended to cut all material to 90" or shorter for UPS Shipments.
$5.00 packaging charge for small parts orders.
$15.00 packaging charge for material up to 72" long.
$20.00 packaging charge for material over 72" long - UPS maximum packed length is 96". This is firm. Maximum material length is 90" – no exceptions unless we ship "collect" to a consignee's UPS account.
Additional handling charges may apply on residential shipments and heavy packages (over 70 lbs.) or over 60" long, as determined by shipping service. UPS now imposes another surcharge for packages longer than 96" (see note above regarding 90" recommendation).
NOTE: UPS "COD" Shipments will incur additional charges.
UPS no longer accepts cash payments at delivery.
Packing charges and shipping charges are subject to change at any time based on market conditions.
RESIDENTIAL SHIPMENTS: UPS generally leaves package shipments at or near the door and charges an extra drop-off fee.
TRUE BUSINESS SHIPMENTS: UPS requires a signature at delivery.
COMMON CARRIER OR TRUCK FREIGHT SHIPMENTS:
All truck shipments ship "FREIGHT COLLECT," F.O.B. INDIANAPOLIS, INDIANA 46268 USA. NOTE: "Freight Collect" means you settle shipping charges at time of delivery. Absolutely NO truckline COD shipments.
You may request your preferred common carrier at the time of order, or you should receive our discount (approx. 75-80%) from one of our regular trucking companies that are shipped to commercial (business) addresses, unless you have a negotiated discount with that carrier. Any pre-established discount program will override BOYCE's discount. Packaging charges for motor freight are additional.
Certain truck shipments to residential addresses may incur "limited access" charges. An alternate option is to pick up at the nearest local truckline terminal. Check with your BOYCE sales representative when discussing shipping options.
Since early 2021, shipping rates for packages longer than 96" have been evolving and many carriers are no longer willing to move long freight. Many carriers are adding enormous surcharges for packages longer than 96". You are welcome to arrange your own shipping (such as a "hotshot" trucking company), but we will require a Bill of Lading to release the freight to the carrier.
Packaging charge for bundles: $70.00 per bundle. We can typically pack approximately 2000 lbs. of material per bundle.
Skid charge for sheets and/or plates: $30.00 per skid. Certain materials may require additional packing to ensure safe shipment.
Appropriate package charges will be added to your order.
OSB ("Oriented Strand Board") Export Skids available at additional charge, currently $100.00 for 3' x 6' skid. Other sizes must be quoted at time of shipment.
INSPECTING FOR DAMAGE:
It is important that whoever receives your shipment carefully inspects all skids, bundles, and packages thoroughly before signing the Bill of Lading (BOL) or Delivery Receipt. If damage is suspected, please note the damage on all copies of the BOL. Freight companies are becoming increasingly stricter about this policy and will deny a freight claim if damage was not noted at the time of delivery.
The freight carrier has accepted freight from BOYCE INDUSTRIES, in good condition. Pictures are taken before shipment and are available upon request.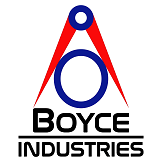 BOYCE INDUSTRIES
5377 W 86TH STREET, INDIANAPOLIS, IN 46268
PH 708-345-0455 - FAX 317-879-9397